Hundreds of friends, relatives, and admirers of Allen Derr gathered at the Barber Park Event Center on Wednesday evening to remember the Idaho attorney who won a landmark sex discrimination case before the U.S. Supreme Court and went on to establish a legacy in Idaho of standing up for openness in government.
Derr was a founding board member of Idahoans for Openness in Government (IDOG) and a longtime director of the Idaho Press Club. He held both journalism and law degrees from the University of Idaho; he asked that donations in his memory go to his favorite program there, the Pro Bono Program, University of Idaho College of Law, P.O. Box 442321, Moscow ID 83844-2321.
The event center was standing-room only for Allen's celebration memorial. Don Burnett, president of the University of Idaho, spoke of the significance of the Reed vs. Reed decision that Derr won at the U.S. Supreme Court. "It created a whole branch of jurisprudence related to gender equality, and it all started right here in Boise, and it started with Allen Derr," he said.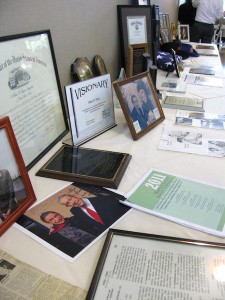 He also said Derr worked with him to help establish the pro bono program at the U of I law school, where students are required to do pro bono work and taught that "the doing of pro bono service is a professional responsibility." Said Burnett, "We have more justice than we would have had without Allen Derr."
Derr's little sister, Jane Betts, shared stories from Allen's early life, and former Idaho Supreme Court Justice Jesse Walters told of joining Derr's law practice in 1965, as a young attorney, fresh off a clerkship. "I learned from the best," Walters said.
Idaho Press Club President Betsy Russell said, "Allen is legend at the Idaho Press Club. And it may be because before he was the kind, wise, extremely knowledgeable and experienced First Amendment attorney we all knew him as, he was a reporter, too."
KTVB-TV has a report on the memorial here:
https://www.ktvb.com/news/Friends-and-family-hold-special-memorial-for-Allen-Derr–217864881.html