From Eye on Boise/Spokesman-Review
Despite stiff competition – a hard-fought UI basketball game against the Washington State Cougars and the downtown holiday lights parade – nearly 40 people turned out last night for IDOG's open government seminar in the ornate, wood-paneled, hundred-year-old City Council chambers at Moscow City Hall. Those attending included the mayor, city and county attorneys, reporters and editors, academics and clerks, elected officials, interested citizens and agency staffers who deal with open records and meetings questions daily. The session was co-sponsored by the Moscow-Pullman Daily News.
Attorney General Lawrence Wasden told the group that some might think someone making a public records request is "just fishing." But, he said, "The public records act is a license to fish." Public records have to be disclosed to the public.
Deputy Attorney General Brian Kane told the group, "Any time you have a question with the open meeting law … resolve all doubts in favor of openness."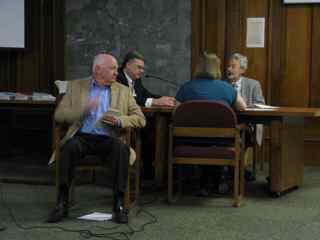 In humorous skits exploring what the public records and open meeting laws require, Moscow City Councilman Walter Steed, shown here, portrayed a lucky reporter – seated next to three county commissioners at a cafe, who are busy illegally conducting the county's business as he overhears. (The commissioners were portrayed by Kenton Bird of the UI, Moscow City Attorney Randy Fife, and Moscow-Pullman Daily News staffer Kelcie Moseley). The scenario is actually based on a real case in Idaho.
The IDOG seminars move to Lewiston tonight.
From Eye on Boise/Spokesman-Review