From Eye on Boise/Spokesman-Review
At the IDOG open government seminar in Lewiston on Thursday night, A.L. "Butch" Alford, owner of the Lewiston Tribune and a charter board member of IDOG, told a crowd of 50, "Our mission is to foster open government, supervised by an informed and engaged citizenry. We believe we all benefit when the public, the media and government officials are fully aware of the public's rights to access government information and observe the conduct of the public's business." Added Alford, "Tonight's mission is to enlighten the public, government officials from all levels, and the press."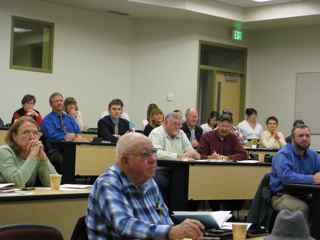 All were well-represented in the group that filled a lecture hall at Lewis-Clark State College, from city council members to board clerks to reporters and editors to a state lawmaker. In their evaluations of the evening session, one reporter wrote, "A terrific review – and enjoyable." An elected official wrote, "My entity needs to review our open meetings." Wrote a school board member, "We need to be more careful with email," adding that her takeaway was, "Don't stall on public records requests and watch the emails."
The session was an eye-opener for some in the audience, including one who's been working with a county task force and who realized he may have slipped up on open meeting law requirements. "I MAY be in a hell of a lot of trouble," he wrote in his evaluation, adding three exclamation points; he conferred directly with Idaho Attorney General Lawrence Wasden after the session on the steps he should take to make sure he's in compliance.
"Compliance is very critical," wrote a local government employee in her evaluation. An elected official wrote, "You can work with the law."
The session focused on the Idaho Open Meeting Law and Public Records Law, what they require and what they don't, and how everyone can make sure they comply with them. Wasden, who has led all 23 of the IDOG sessions held around the state since 2004, said, "In order for citizens to be involved, they have to know and understand what their government is doing."
Deputy Attorney General Brian Kane told the group, "The No. 1 goal of the open meeting law is compliance. … If you look at the open meeting law as an entity and say, 'How can we get around it?' you've defeated the basic purpose – openness."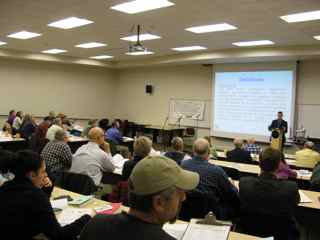 Issued covered included recent changes in the law, including a "cure" process for agencies that allows them to correct an open meeting law violation, and new fee provisions for public records that require any labor charges to be clearly itemized and charged at the hourly pay rate of the lowest-paid employee qualified to handle them, and also make, in most cases, the first two hours of labor and 100 pages of copies free.
There's more information at the IDOG website, www.openidaho.org. IDOG stands for Idahoans for Openness in Government; Wasden's office partners with the group in the open-government education project, which also is supported by the Idaho Press Club, the Idaho Association of Cities, the Association of Idaho Counties, and receives grant funding from the John S. and James L. Knight Foundation through the National Freedom of Information Coalition. The Lewiston session wrapped up a week-long run of well-attended open government seminars in North Idaho, starting in Sandpoint on Monday and also hitting Coeur d'Alene and Moscow. A Boise session likely will be held this spring.
From Eye on Boise/Spokesman-Review