From Eye on Boise/Spokesman-Review


A whopping 92 people attended the open government seminar in Coeur d'Alene last night, sponsored by IDOG, Idahoans for Openness in Government, and co-sponsored by the Spokesman-Review and the Coeur d'Alene Press. Press Managing Editor Mike Patrick told the crowd it was the first time he could remember the two competing newspapers co-sponsoring an event. Among those attending were numerous local government officials and staffers, reporters for a variety of news media, political activists, several former state legislators and lots of interested citizens.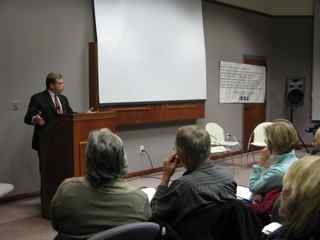 Idaho Attorney General Lawrence Wasden singled out an audience member, former state Sen. Gary Ingram, for special recognition: Ingram is the author of much of the Idaho Open Meeting Law, including the key wording in the preamble:
"67-2340. Formation of public policy at open meetings. — The people of the state of Idaho in creating the instruments of government that serve them, do not yield their sovereignty to the agencies so created. Therefore, the legislature finds and declares that it is the policy of this state that the formation of public policy is public business and shall not be conducted in secret."
Said Wasden, "We owe a great thanks to give to Sen. Ingram for his work on this."
Also recognized for traveling the farthest to attend: Bannock County Commissioner Howard Manwaring, who traveled from Pocatello to attend the session. It ran well into the evening because the audience had lots of questions, on everything from executive sessions to notice requirements to public records requests to minutes.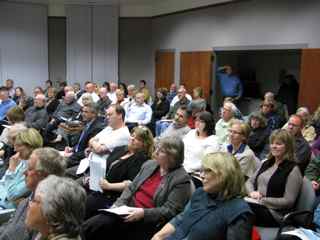 In interactive skits to demonstrate various nuances of the open meeting law and the Idaho public records law, actors included Kootenai County Prosecutor Barry McHugh, who portrayed an upset county commission chairman, and Kootenai County Commission Chairman Todd Tondee, who portrayed a county prosecutor. Coeur d'Alene Press reporter Maureen Nolan acted the part of "Trusty the city clerk," opposite Coeur d'Alene Schools Superintendent Hazel Bauman, playing "Crusty, the reporter."
Among the comments in the evening's evaluations: From a school district clerk: "I learned some new information." From another public employee: "How to keep my entity legal and in compliance." Another attendee wrote that he learned: "Documents are meant to be public; give public officials a chance to provide them." Wrote another, "My organization needs to change agenda format and will probably put minutes/agenda online."
Every attendee got copies of the latest version of the Attorney General's Open Meeting Law Manual and Public Records Law Manual; both also are online at his website here. Wrote a citizen who attended the Coeur d'Alene seminar, "The booklets will be a great help. There are ways to stay out of 'trouble.'" Wrote another, "Be cooperative, be helpful, when in doubt check the book." Tonight, the open government seminar will be in Moscow, and tomorrow, Lewiston; there's more info here.
From Eye on Boise/Spokesman-Review